Spring 99
A BULLETIN DEALING WITH ISSUES FOR DENTAL HEALTH PROFESSIONALS
Inside This Issue
1. Bredent's New Implant Abutments
2. Micro Dentistry is the Cutting Edge
3. Toothbrush Companies Being Sued
4. New Products from Bredent
New Implant Abutment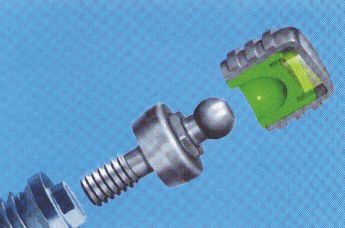 New Implant AbutmentTo compliment the VKS Vario Stud Snap attachments Bredent has introduced 3 ball type implant abutments with a hex-lock. These 2.2 mm ball attachments will fit Branemark, 3i and Steri-oss implants. The gingivaformer will be available in 2mm, 4mm, and 6mm collar lengths. These attachments are manufactured in Germany under ISO 9001 and DIN EN 46001 quality control programs and industry standards. Grade 5 titanium is used in the manufacture for strength, durability and biocompatibility. Divergence of these new abutments when seated should be no more than 15 %, which allows flexibility when locating implant sites. There are two types of female retention sleeves offered. One with a resilient pad and one with out. The female is made with " duro-plast " a thermoplastic material which includes a resilient pad attached to the top of it. When the female is inserted into the metal housing the pad touches the top of the housing. Any vertical force applied would causes the female to move upward inside the housing compressing the pad,thus providing approximately .5 mm of resilient movement which protects the implant from vertical forces. As with the original VKS Vario Stud snap, there will be three different frictions available. The accessories include two hex drivers, one for R.A. hand piece and one manually driven. There are transfer analogues for all three implants and special mandrels to measure the 15 degrees divergence angle. For more information contact Dent-line at 1-800-859-7589.
Micro Dentistry
D uring the International Dental Show, Kavo a manufacturer of dental hand pieces provided a seminar on Micro Dentistry. The presenters consider Macro Dentistry the treatment of the condition when the patient is in pain or caries are evident in the X rays. With Micro Dentistry, the treatment begins before the conditions arise. In order to do this a microscope is used to explore the oral environment for indicators to future conditions. The seminar was presented by Dr. Th. Jahn who originated the concept while at the University of Zurich in Switzerland and Dr. D. Hildebrand an implant specialist and educator at Humboldt University in Berlin. Ideally the concept is to remove as little tooth structure, as is possible for the procedure be, it veneers or caries preparation. Dr. Jahn also utilizes the microscope to smoothen uneven feather edged margins that can't be seen by the naked eye. Brasseler fabricated special micro fissures and diamond rotaries according to Dr. Jahn's specifications. The micro rotaries are approximately ¼ the size of conventional F.G. rotaries and he uses them in conjunction with auto-focus microscope and an oral camera. After his presentation Dr. Hildebrand demonstrated surgical procedures utilizing a suture needle ¼ the size of conventional needles. This allows conservative suturing that preserves the gingival with minimal tissue flap. Dr. Hildebrand enhances red aesthetics by cutting and suturing papilla while using the microscope. Using this technique during tissue regeneration surgery, the sutures can be removed in two days instead of two weeks. Both the areas of Micro Dentistry red and white aesthetics are on the cutting edge. In the future patients could prefer less intrusive techniques as the one Dr. Jahn and Dr. Hildibarandt have described.
Toothbrush Suit
In a recent Toronto Star article, we learned that Mr. Mark Trimarco from Chicago is suing several toothbrush manufacturers and for good measure, the American Dental Association. Mr.Trimarco feels that the nylon bristles have damaged his gums and made his teeth sensitive. He wants the toothbrush manufacturers to put warning labels on the packaging.
We have an alternative to nylon bristles. Our natural hair toothbrush bristles are very gentle to the gingival. If you are concerned about the effects of nylon, and are interested in our 100 % all natural toothtooth brush. Contact us inforn@dent-line.com.
New Products From Bredent
The International Dental Show was held on April 13th to 17th in Koln Germany. Bredent had a booth with fifty technicians demonstrating all the new products. Bredent introduced Abraso Gum Acryl, a chair side denture adjustment kit containing two carbides and three silicon polishers. Also the license requirement for the Friction Fit System has been dropped. This product is excellent for activating lost friction in metal over metal restorations. There is also a new bonder for bonding metal to metal. Bredent produces a special adhesive for gluing the plastic female attachments into the metal housings. Ceragum is a new silicon polisher for ceramics and for gold alloys. Available are coarse, normal and fine with barrel, knife and square edge wheels for ceramics and coarse and fine, for alloys. Bredent has introduced 10 new carbides that have additional relief cut into the blade that increases its life three fold. Mr. Macri, Technical Consultant for Bredent said that they feel that this the future for carbides. Brevest Rapid 1 was unveiled After a 12 minute bench set you can place the investment into 1000 C furnace without concern. Two non-precious alloys will complement the investment. Brealloy F 400 for partials and C&B 270 for crown and bridge. Microceramic is a liquid ceramic that you paint on wax ups prior to investing. It will bond with the investment, guarantying that fine details will be duplicated in the metal. New equipment was rolled out. Such as Polierjet Quadro Finish, a cast partial polishing machine. Four separate polishing drums reduce finishing time for the technician. BF 1 is a new milling machine that can not only mill but also can be used as a drill press. It has a lot of advanced features that were incorporated from the advice of dental technicians. Two duplicating materials are now available, one is silicon based for duplicating refractory models and a silicon putty for general lab work. Compression tests show that it will regain 99.2 % of its memory. In the area of ceramics, 3 different diamonds were designed specifically for shaping and characterizing anterior anatomy. Spot Clip is a hemostat that utilizes an internal grip and an external pin to hold crowns when applying opaque and porcelain. Ideal for small crowns, when diamond tipped hemostats are too large. Another great product is the Mameloncutter. This instrument will form grooves in wet porcelain that allows the ceramist to lay incisal porcelain into them to create mamelons as in natural teeth. For information call Dent-line at 1-800-859-7589.