Instruments – Gnatho Flex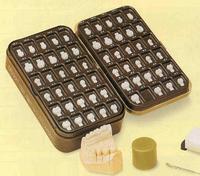 Aesthetic-Gnathoflex
Flexible, re-usable silicone moulds for creating
wax, acrylic or ceramic occlusals.
Produce wax occlusals in 40 seconds!
Produce acrylic occlusals in 90 seconds!
Product porcelain occlusals in 180 seconds!
Wax Occlusals
The Gnathoflex is filled with modeling wax of your choice.
As soon as the wax begins to gel, place the Gnathoflex on the die.
Close the articulator and attach the Gnathoflex using a drop of wax.
A high lustre precision wax production of the mould is created.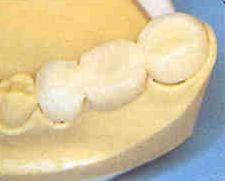 Acrylic Occlusals
Prepare the coping as usual, and apply the crown and bridge acrylic (dentine) of your choice.
No separating agent is needed. Fill the cusps with incisal, then fill the mould completely with dentine. Place the mould on the bridge.
Close the articulator, if using light cure acrylic, begin light curing in order to fix the bite.
Remove the bridge, apply interdental contact areas and complete polymerization
Porcelain Occlusals
Apply the opaque, fire it and build up the bridge using dentine. Apply a thin coat of Gnathoflex separating agent.
First fill with the incisal, then with dentine. The incisal material should be brushed out from the cusps toward margins.
In order to allow for shrinkage, keep articulator open by more than 0.5 mm when building up porcelain occlusals. Place Gnathoflex on bridge.
Dry porcelain as usual. Carefully remove the Gnathoflex, remove bridge from model, apply further porcelain to contact areas and fire as usual.