1999 Flyer
July 1st to August 31st, 1999 Flyer
Monthly Promotion, Page 1 of 2
Quick, Quicker, Quickest!!!
Bredent Abraso-Fix
Polish "Ceromer & Composite Systems" such as TARGIS (TM), BELLE-GLASS (TM) and ART-GLASS (TM) quickly and reduce your working time with these highly recommnded polishers and paste.
Round brush, yellow – extra fine
2 piece pack 350 0058 0 @ $28.80 CDN or Round brush, red – fine
2 piece pack, 350 0060 0 @ $28.80 CDN or
8 piece pack 350 0075 2 @ $97.02 CDN 8 piece pack 350 0075 3 @ $97.02 CDN
Note: Round Brushes available in blue for precious metals and green for non-precious metals.
Diamond Polishing Paste for
Porcelain & Composites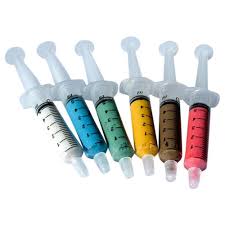 This polishing paste has a high content of diamonds and does not fly off on application, but instead spreads over the porcelain surface, thus requiring less paste while polishing and ensuring better value with less material used.
This paste can be used on all composites and all forms of ceramics.
Diamond Polishing Paste:
5 grams Order Number 5400 0140
Special Price: $120.00 CDN
Felt Wheels; unmounted, dia. 12 mm, 100 pieces,
Order Number 3500 0710
Special Price $87.00 CDN
Cotton Buff for the handpiece

Mirror-like high lustre even in areas with difficult access.
These cotton buffs are perfectly suitable for high lustre polishing of all materials in areas with difficult access. The particularly soft cotton threads protect the surface of the restoration.
Order Number: 350 0065 0, 15 per package Special Price $34.00 CDN.
All products are manufactured in Germany to ISO Standards