Case Study # 1
. 

This female patient has a six unit anterior bridge. A stress breaking tube attachment was utilized from the left lateral. Notice that the VKS mini male attachment is placed closer to the gingiva. Its 1.7 mm. dia. and placement provide more room to create aesthetics, since the anterior teeth are narrower buccal lingually. A removable cast partial denture was fabricated.
Additional adjustable retention was achieved by crowning the second molar and adding a third attachment rather than traditional clasping of the abutment.
Case Study # 2
        .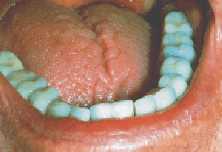 A Senior male. Treatment: Construct 2 lower centrals PFM Crowns and 1st and 2nd bicuspid PFM crowns with 3 bredent VKS SG attachments. A lower Cast Partial Denture was fabricated utilizing the yellow (normal) female attachment. Notice no areas of metal showing in this aesthetically attractive lower combination case.
Note:    Green female attachment – reduced friction
Yellow female attachment – normal friction
Red female attachment – high friction.
The VKS stud snap can be used with slender frameworks such as the centrals. A mini 1.7 was used to create enough space for aesthetics.
For More Case Studies
For Canadian enquiries, you can reach our technical rep at 1-800-250-5111 or e mail us at
OR
For U.S. enquries, please contact XPDent at (800) 328-3965 or

inform@xpdent.com
For further information, please write to us at   Dent-Line of Canada Inc.,
3420 Pharmacy Ave Unit 3, Scarborough Ontario Canada M1W 2P7
Tel. 1-800-250-5111 or Fax. 416-694-1071
For how to increase your attachment business please see the Winter 99 issue of the The Dent-Liner